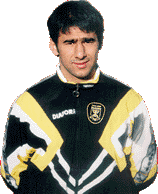 Where does you nickname - Trezi - come from?
When I was 12 years old I saw the game between France and Germany in the European quarter finals in Spain- and a French player called Marius Tresor scored a beautiful goal. I went back to the field and practiced a lot, and I finally got it. By then my friends called me Trezy - short for Tresor.
At what age did you start playing football?
I was 9 years old, and since then it's been football all the time.
Many famous players started out as strikers. Have you always played in the midfield?
Well, in Beitar I play a little to the back, I have to play there because that's our system this year. But I was always in the midfield.
Have you got a model player?
Yes, Diego Maradonna
Where did you play before?
Mostly in Hungary. In 1995 I played for Charleroi in Belgium. I played From December to May, then I was injured in the foot and returned to Hungray. Then beitar contacted my agent after Stefan told me about Beitar.
Have you heard about Israeli football before?
No - I did not.
So was it mainly for the money?
Yes, that was the first reason. but also becaused I wanted to leave Hungary. My team - Kispest - was a catastophe...
would you have gone to Sunderland like Harazi planned to do?
Yes, even for the same money, because it is England.
I'd like to know how familiar you 've become with Israel. First tell me if you know who are these five people:


Zeev Zhabotinsky no
Menachem Begin no
David Haputa no (R.I.P. - a famous Beitar fan who passed away in 1996)
Yigal Amir no
Uri Malmilian Yes, I heard about him. Many people told me he was a a good player in Beitar. I saw him on TV and I met him before some games.

Now I'll name 5 foods - tell me which of them you know:

shwarma yes, but I only discovered it here
Sushi no
Burekas no
Fool no
Knafe no

Well, in this sense you haven't been to Israel yet. Finally, do you know these five words:

Nivdal no (it turns out even Israeli players say offside)
Keren yes
Harama no (but he knew the verb form 'tarim')
yalla yes
Zevel yes


Istvan Pisont getting back in shape
after his injury in December '96
When you play against aggressive players like Amir Shelach, or even brutal ones like Sergei Kandaurov, and they hurt you or someone from your team, do you get the urge to hurt them back, to get even?
If someone plays brutally I try not to pay attention or get involved. Of course I feel angry and I sure feel the pain but what can I do? Usually, I try to stay relaxed.
During games we often see see players lying on the field in what looks like incredible pain. Is this pain usually real or is it customary to put on a little show?
Personally I don't put on shows, but most of the times it is a show, especially if it is in the penalty area.
What about the excitement after scoring a goal - is this part also a bit of a show?
I can tell you that in Beitar it is real. We are very "hungry" to win, because we have an important goal - the championship; after we score the first goal everyone is like crazy. After that every goal is great, the crowds come out and it's fantastic.
Here in Israel, if you're replaced in the middle of the game it seems to be a big issue. Is it the same in Europe?
No. In Europe if you show you're angry after being replaced you don't play in the next game and you get fined so it is not done. (Istvan Salloi joins: The feeling is the same but the reaction is different; if you feel you were good then it is frustrating but if you know you were bad it is no big deal). When I saw a few weeks ago on TV what Alon Mizrachi did after being replaced - and he's not the only one - this behaviour was a suprise, even a shock to me.
I realize everyone likes to play but many times it is a question of tactic, so it does not have to be personal.
I don't know, sometimes you do feel it is personal. also there are other reasons for replacements, like when the coach wants to give some playing time to substitutes. So you are replaced in the 80th minute, and after the game over the crowd is cheering and the players run to the fans and you feel you did the job and when you can enjoy it you're not there
A lot of people ask why you don't dribble, especially this season.
Why do they ask? is it missing from my play? I like to play with 1-2 touches, but if I have an open area and I think it is good for the team then I dribble.

You are considered one of the fastest players in Beitar, both in motion and in thought. When you get the ball, how far ahead do you think? Do you see 2-3 moves ahead (like some journalists claim), or do you just plan the next move?
When I get the ball and pass it to another player, I know what I will do next - I move so that I can get the ball in a better position. It is mostly intuition - you feel who it is best to give the ball to.
Did you watch the Israel-Cyprus game?
Yes.

Do you think you can explain what happened there?
When you win you don't think why you did, but when you lose you find reasons. In this case, there were two early, studpid goals, and when Israel was 2:0 behind they tried to get back very hard, and they got nervous and lost patience.

So you think the problem was only on the personal level, and not tactical as well?
I can't answer that - I must be diplomatic...

What happend agains Bodo Glimt?
When we started the preparations for the UEFA cup we played maybe 1-2 games and they were in the middle of the season. They had a good tactic and good physique. I think if we played them now it the result would not be the same. The system was new for us - I had to play was more in the back, Stefan did not play, Zohar came in... There is a big question of contact in football.

To me, from the stands, it looked like their tactic was simple - run fast and put the ball in the net.
No, it was a very tactical game, teams don't play like this in israel. when they defended 9 players went down and only one stayed up on the offense, then 7 players would attack, not 3-4 like we did. and there was a big physical difference - they were much faster. If we get to Europe this year we have to be better.

Last year, after 15 excellent games, the second half of the season did not work out; If not for your goals against Bnei-Yehuda, we would not even be in the EUFA cup... why do you think that happened?
Mainly, we lost all the big games. This year we win those games, and it gives a lot of confidence.

The same things seems to be happening to Maccabi Tel-Aviv - there is a huge difference between last year's team and the one we see now. If I make a technical comparison - players, coach etc. - this year's team is not weaker...
Yes, but it is not a quesion of logic. They are not hungry this year. They won everything last season and they probably felt they could get everything without work. Now it is difficult to get up and back to the top.
Do you play any other sports?
Not professinaly, but I like to play tennis and basketbal. I also like bowling and billiard and in Belgium I played table football.

Beitar's fans are considered different from those of the other teams. Have you seen similar support for a team in Belgium or Hungary?
In Hungary no, although Ferencvarosi have a very large crowd. In Belgium, Standard Liege has something like that.

And does the crowd make a difference?
Yes, a big difference. if you play in a full house or an empty stadium it is very different.

Do people disturb you here because you play for Beitar?
In Hungary, wherever famous football players go, people come up to them and complain - everyone has something to say about the current state of Hungarian football. You must hide yourself when you go out to the street. Here people help you and are very nice to you - I really can't complain.

Even if they call you Pishonet instead of Pisont?
Oh... I don't mind.


Pisont playing with Istvan Salloi's baby

| | | |
| --- | --- | --- |
| Last updated January 20 1997 | | |